Youth activists, Islamists, workers and football fans to hold rallies and marches against Mubarak government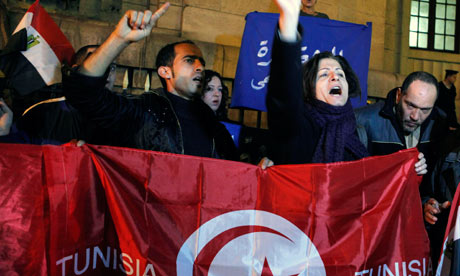 An unlikely alliance of youth activists, political Islamists, industrial workers and hardcore football fans have pledged to join a nationwide "day of revolution" on a national holiday to celebrate the achievements of the police force.
State security officials have branded the protests illegal, and said that those taking part will be dealt with "strictly".
"I'm answering a call that began online, a call to stand up against police brutality on the day the regime wants us to celebrate their so-called achievements," said Salma Said, a 25-year-old activist and blogger who plans to protest in Cairo.
"Of course demonstrating against police brutality means demonstrating against Mubarak himself and his whole regime, because they are the ones who created this system. Momentum is gathering really, really fast; friends I haven't spoken to in years have been ringing me up, promising to come down."
After initially dismissing the protests, the Muslim Brotherhood - Egypt's largest organised opposition force - has now said it will back the demonstrations symbolically, although it has not called on its supporters to take to the streets. Strikes are expected by workers in several parts of the country, including Mahalla, and a number of Egypt's traditional opposition parties and prominent public figures have pledged support.
Mohamed Adel, a spokesman for 6 April, said the broad range of participants distinguished tomorrow's action from previous protests. "It will be the start of something big," he told the Egyptian news outlet Al-Masry Al-Youm.
"Regardless of how many people turn up, these protests will be highly significant," said Nabil Abdel Fattah, a political analyst at the semi-official Al-Ahram Research Centre. "Those confronting the regime on Tuesday will be the sons and daughters of virtual activism - a new generation that has finally found something around which they can unite and rally.They are the product of a government that has never offered them any ideological vision to believe in, and now they have themselves become a symbol of contemporary Egypt."
Related
19 Jan 2011

23 Jan 2011

16 Jan 2011

11 Jan 2011