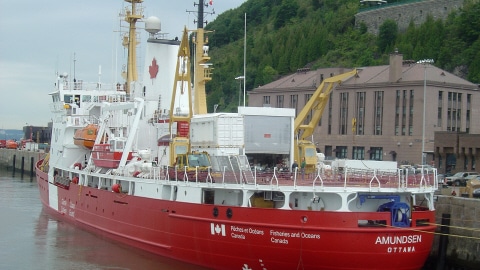 Photo: AFP / Clement SABOURIN
The icebreaker Amundsen in the port of Quebec
Oil companies have used a ship of the Canadian Coast Guard for their oil exploration in the Arctic.
A situation raising the discontent of environmentalists.
Esso and BP have chartered the icebreaker Amundsen in partnership with a scientific group, to carry out their plans for exploration in the Beaufort Sea.
One way to continue their exploration and assess the environmental impacts of their projects in the Arctic.
The Amundsen is the largest scientific research vessel in Canada and a symbol of climate change research in the North.
Esso has leased the ship for six weeks in 2009.
BP has done the same thing this summer.
We know the total value of contracts between oil companies to ship the Coast Guard.
We do know that Esso and BP have each paid at least $ 50 000 per day for access to scientific equipment of the Amundsen.
But this boat rentals, a pioneer of research on climate change, raise the outrage of environmentalists.
It is a kind of slap in the face of the international scientific community, the international community.
- Steven Guilbeault, a spokesman Équiterre
The scientific leader of the Amundsen, Louis Fortier, defends the use of oil by ship: "The general idea is to guide the development of exploration for oil, so [...] to minimize potential impacts on ecosystems, "he argues.
Coast Guard for his part said that the mission of the Amundsen is consistent with the priorities of the federal government has awarded exploration rights to oil companies in the Arctic.
The Amundsen
The CCGS Amundsen, a heavy icebreaker of the Canadian Coast Guard was called into service in 2003 and modernized.
Some 30 million has been invested to transform it into a vessel for advanced scientific research in the Arctic.
Fisheries and Oceans Canada is a partner of an international scientific consortium that studies the effects of climate change on Arctic ecosystems.
The consortium, which includes scientists from Canada and around the world, uses the Amundsen each year from May to October.
Source: Fisheries and Oceans Canada
With reporting by Jean-Philippe Robillard