Znet had look at China back in 1999 joining the WTO and predicting a huge amount of suffering for Chinese workers, too large to imagine.
http://www.zmag.org/ZSustainers/ZDaily/1999-12/14landau.htm
We've all seen the HUGE outgrowth in cities and
pollution
ever since.
This site has some interesting articles
Ethical Corporation with
CHINA
links
Who wins in this China race to capitali$m:
http://www.chinadaily.com.cn/china/2007-04/29/content_863758.htm
As this the richest Asian of ALL, one can hardly cry socialism
By You Nuo (China Daily)
Updated: 2007-10-08 07:04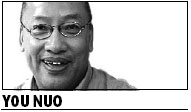 As the Shanghai stock market's index is edging toward 5,600, or seven times its level of just two years ago, some Chinese economists recently spoke about the threatening "three highs" - housing prices, stock prices, and the CPI (consumer price index, a measure of inflation).
One should not think they were just speaking about technical problems - those that offer an indication of the economy's trend. Although economists are still debating how much a bubble is being built up and when will it come to an end, the current general inflationary pressure is hard to deny.
While an anti-bubble formula seems still far away (and Alan Greenspan would agree with this), what most central banks do when they see signs of it is mostly to take some preventive measures, such as to tinker with interest rates and money supply policies. But these measures are technical. They do not stop the general trend or lead it another direction.
Small wonder, as one reads the latest research papers from overseas investment institutions, analysts are talking about a Chinese economy that can no longer be able to help the world exorcize the ghost of inflation.
Some of them, like Goldman Sachs' economist Jim O'Neill, count on India becoming "another China" - or the world economy's next driving force of low-inflationary growth.
It will, of course, be a good thing for all participants in the global market if India can catch up more quickly. But all the analysts have yet to give figures showing how much India has to invest in its infrastructure, and more importantly, in order to generate enough disinflationary growth, how much energy that economy is going to consume.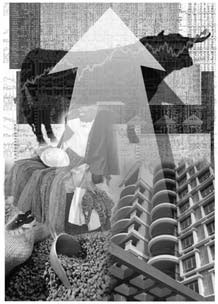 Big changes do not repeat themselves on a global scale, I am afraid. The distablizing factor to the world economy, and the long-term cause of price rises, is energy and its related environmental and health issues.
What the world can count on is not an even fiercer competition between China and India, or among the so-called emerging market economies, but proper ways to use energy, raw materials, water and land.
How much higher would world energy prices go, one may ask, if India is to become "another China" by building as many power plants and produce as many gasoline-driven motor vehicles?
How much more greenhouse gas emissions can the world afford to bear, then, if developing countries keep consuming as much energy as China does today?
So what is the most effective cure for inflation? Instead of competition between China and India, it should be competition between the old manufacturing technologies and the new technologies that are more energy efficient and less pollutant.
But, sadly, because of our lifestyle, we still do not have a set of technologies to effectively reduce the amount of waste we create.
And an even bigger issue, although we know that the stock market is becoming a dangerous game, not many people want to redirect their money to investment projects that will be more needed in the future, such as alternative energy and environmental protection. Sooner or later, we will have to pay the penalty.